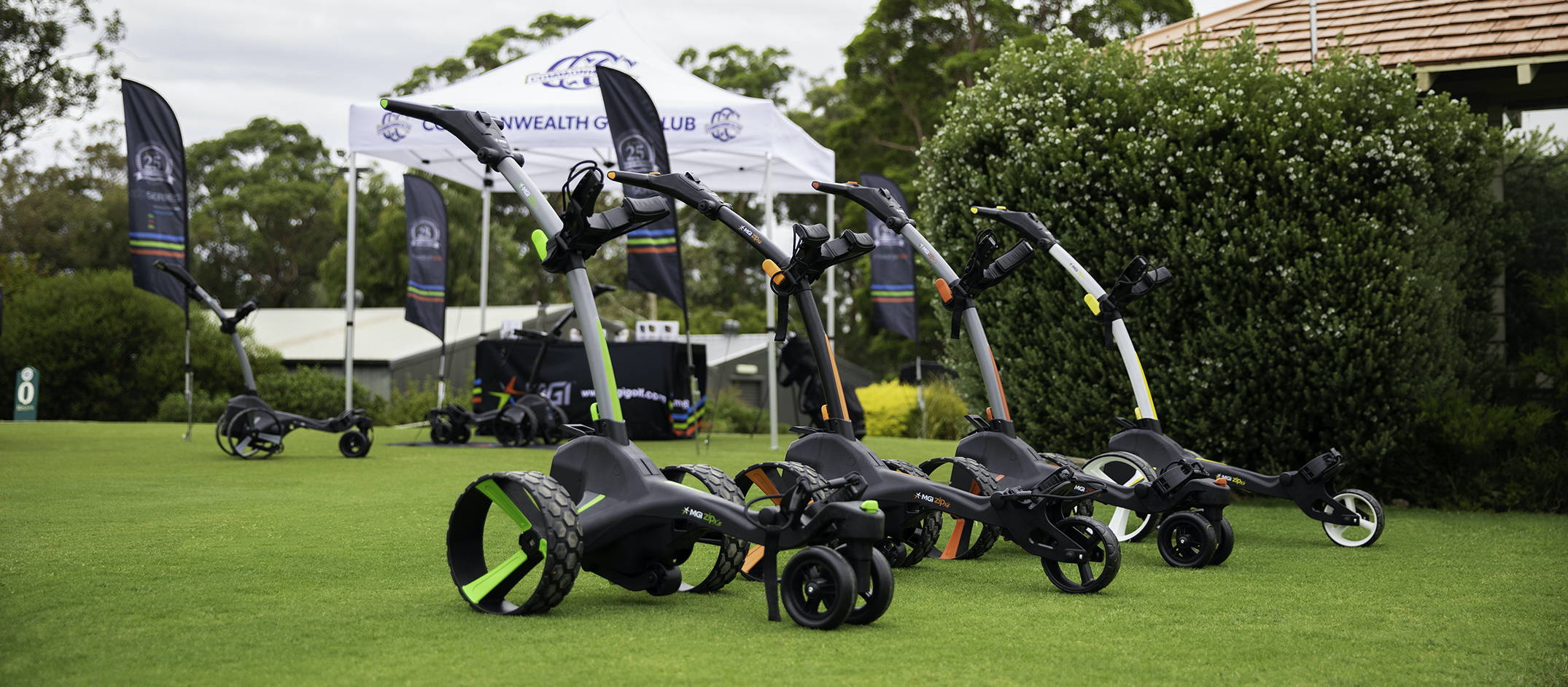 ZIP SERIES ELECTRIC GOLF CADDY RENTAL FLEET
Choosing an MGI electric golf caddy will show your members a contemporary attitude towards golf, backed by over 25 years' experience in designing industry leading electric caddies. Ultimately, helping your club have a financial interest in the growing number of members wanting to walk the course.

Zip X3 and X5 models have digital electronics with built in odometers to record distanced used by each caddy. This assists with even rotation of each caddy to ensure the longevity of the fleet asset.

Choose between the 18-hole battery or upgrade to the 36-hole battery allowing for two rentals per caddy per day before recharging.

Accessorize your electric caddies to make the walk more enjoyable with a scorecard holder, drink bottle holder, umbrella holder or sand bucket loop/bottle.

Free freight and a customized package depending on number purchased.
Rental Support from start to finish
MGI can offer advice on running a successful fleet and operating ideas to ensure easy access to a positive revenue stream for your business. We also have a dedicated marketing team who can provide you with images, logos and links to our videos to help promote your new Rental Fleet through your membership database via e-newsletters, social media or print media.

Manufacturer Commercial Warranty
Covers the fleet for replacement parts for 1 year.

Extended Warranty Options
MGI provides the option to extend the commercial warranty through Year 2 and 3. Enjoy extended warranty and peace of mind for only $100 per unit per year (exclusions apply such as batteries and chargers).

Try first – No Obligation
MGI can provide the opportunity to experience the right electric caddy for your course at no obligation. Demonstration models are available at no cost, simply by contacting our office.

Testimonials
MGI electric caddies are currently found throughout prestigious Private Clubs around the Globe including Royal Sydney Golf, Royal Wellington, Royal Melbourne, Victoria Golf Club in Australia along with Olympic Golf Club in San Francisco, California and The Cliffs, North Carolina. All Clubs have chosen MGI based on the superior product, after sales service for the life of the fleet and the impressive reputation for over 25 years.

Contact Us
To find out more, please contact one of our sales representatives at salesusa@mgigolf.com.